Next Level CHALLENGER Racing Simulator Cockpit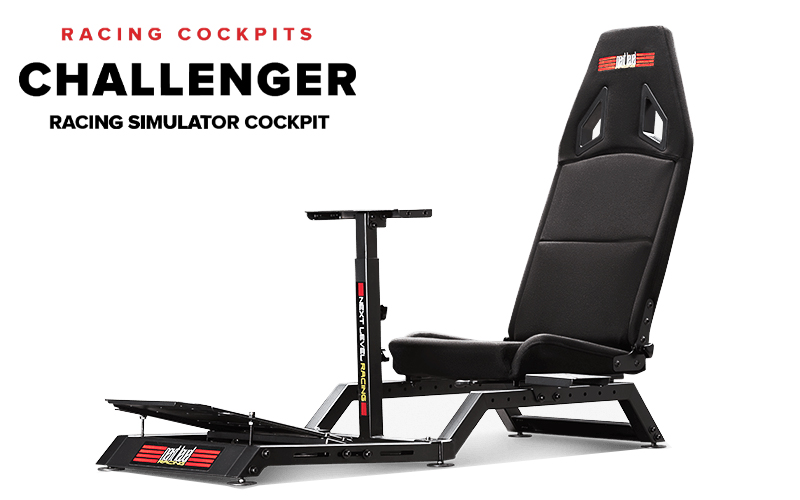 Leading Features
Designed for gamers of all size and age
Shifter plate can be mounted on right or left hand side
Pre-drilled for all major brands Thrustmaster®, Logitech® and Fanatec®
Gear shifter support, seat sliders and reclining seat included
Easy to use seat slider included for seat distance adjustibility
About
Bring the race track to your home with the Next level Racing® Challenger Simulator Cockpit, the perfect cockpit to enter the world of sim racing! The Challenger cockpit is the perfect solution to mount your steering wheel, pedals and even shifter in an authentic racing position to give you a true race car driving experience from the comfort of your home. The minimalistic design of the Challenger cockpit provides you with a rigid and realistic racing experience without a huge footprint.

If you are limited on space the Next Level Racing® Lockable Castor Wheels are also compatible with the Challenger cockpit. This allows you to easily roll the cockpit into the room when wanting to race and easily storing when not in use.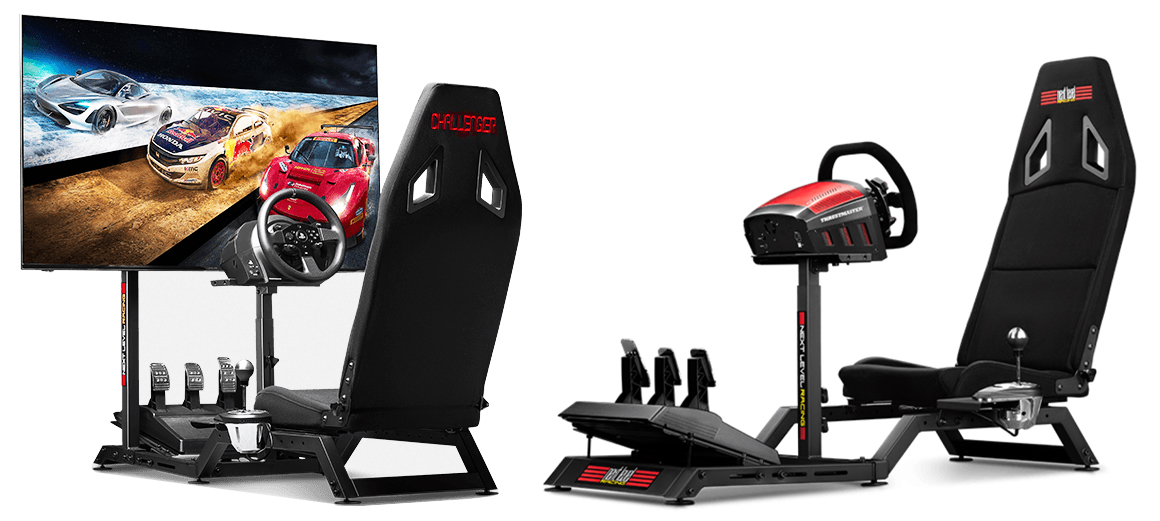 FULLY ADJUSTABLE
The wheel, pedal, seat and gear shifter positions are all easily adjustable on the Challenger Cockpit to suit both children and large adults. The Challenger cockpit has also been designed and tested to have the centre pole holding the wheel closer to your seating position as opposed to your feet, meaning there's no compromise on braking or heel and toe driving.
SOLID BRAKING PLATE
Brake with confidence! The pedal plate is manufactured with premium steel to allow for large amount of force to be applied in those tricky corners. With our strengthening bolts, we ensure the rigidity of the pedal plate. The Challenger pedal plate can also be angle and distance adjusted to ensure it meets all of the users need.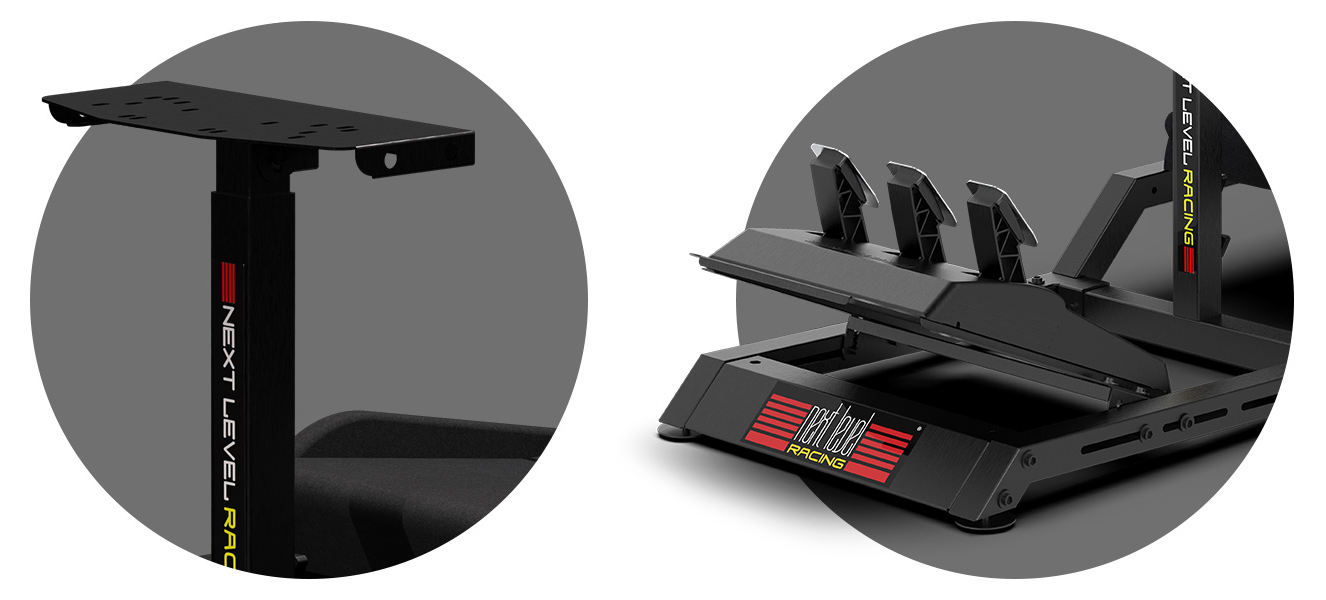 INCLUDED SHIFTER PLATE
Switch gears with ease! With included gear shifter plates, you have the option to either mount them on the right or left hand side for easy use. We have added adjustment plates with varies mounting holes to suit all users.
ADJUSTABLE SEAT
Find the right racing position for you! The included seat sliders allows you to fine tune the right seating position to ensure an accurate seat to pedal distance. Adjustable seat angle brackets, padded seating, breathable and easy to clean fabric will provide all the thrills of racing in the comfort of your own home.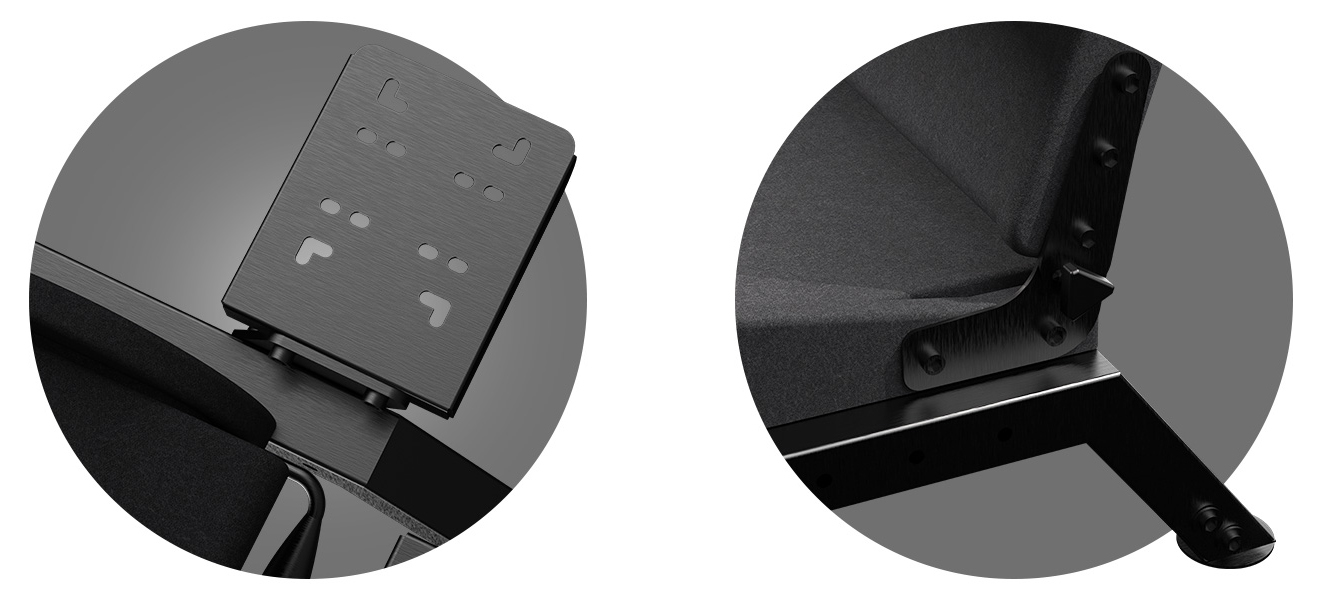 Features
Patent pending design provides rigid support for steering wheel, shifter and pedals whilst providing minimal footprint
Adjustable wheel height and angle
Adjustable pedal distance and angle
Seat slider included allowing quick and easy adjustment of seat for different sized users
Gear shifter support included can be added on left or right side, has two different heights based on preference and can also be attached next to the seat or next to the wheel
Position of centre pole designed not to interfere with driving, braking or serious heel and toe driving
Seat is angle adjustable and seat design allows user up to 150kg or 330lbs to race comfortably
Height adjustable feet included that also protect your floor
Compatible with all major wheel and pedals. Pre-drilled for Logitech®, Thrustmaster®, Fanatec®
Premium laser cut, robot welded carbon steel in Matte Black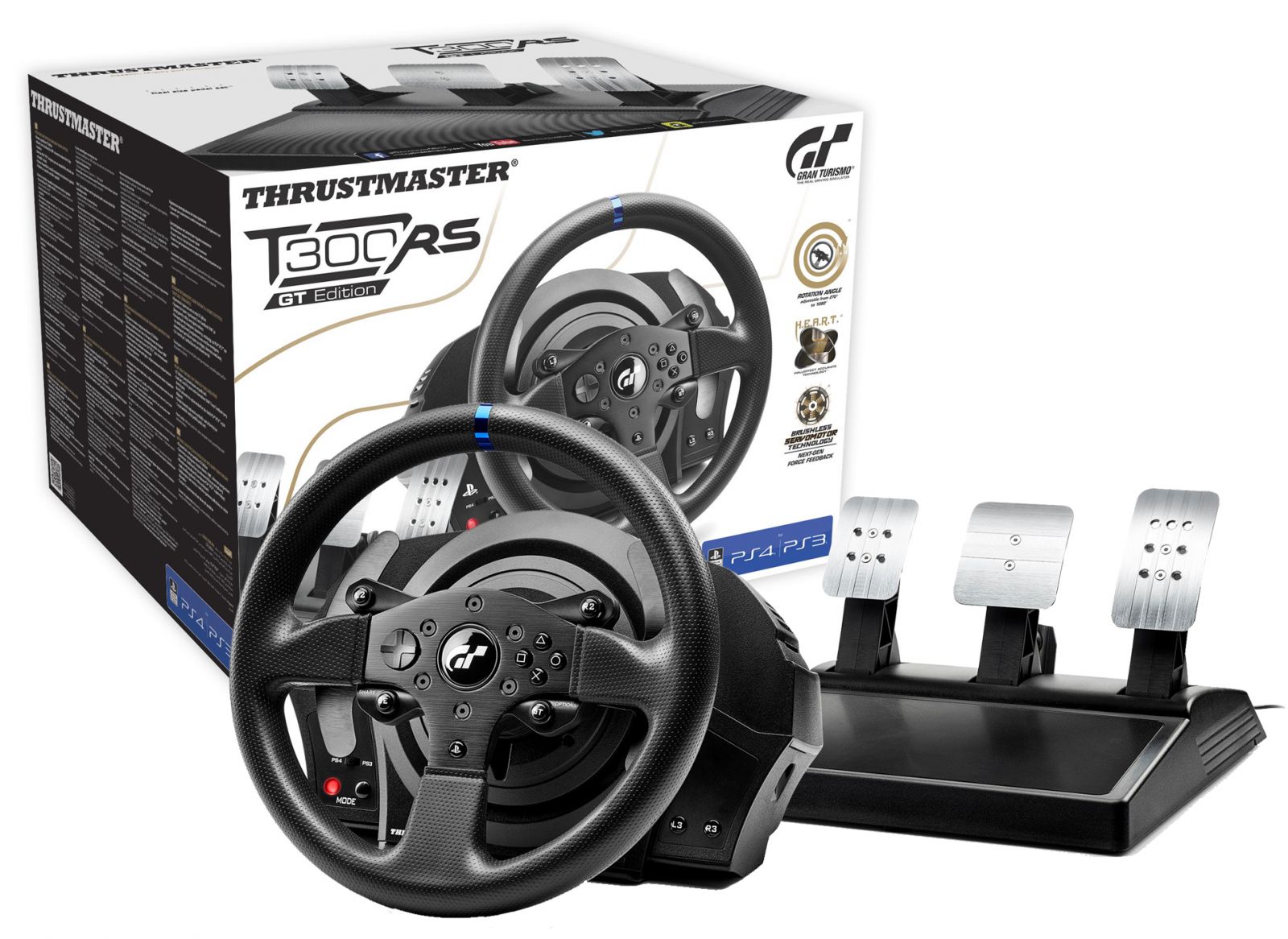 Product Description
Thrustmaster presents the new 1080 Degree force feedback T300RS GT racing wheel officially licensed Gran Turismo. The T300RS GT is the result of many years of experience and is the combination of our advanced technologies. It is equipped with the HEART technology and a brushless motor.
FEATURES
DETACHABLE RACING GT STYLE WHEEL
Detachable, realistic 11 inch/28 cm diameter racing wheel, featuring reinforced textured rubber cladding on the wheel's entire circumference. Official GT Logo in the center of the wheel.
Comprehensive driving controls : 13 action buttons (including 2 on the base) + 1 D-Pad.
Official PlayStation®4 buttons included (PS, SHARE, OPTIONS): access the new social features by instantly switching between the game and the system, at any time
Realistic: 11" / 28 cm diameter racing wheel featuring a brushed metal central spokes
Reinforced rubber texture on the wheel's entire circumference
Weighs more than 2.6 lbs / 1.2 kg, for ultra-realistic inertia and Force Feedback
2 large fixed paddle shifters on the racing wheel
5" / 13 cm high paddle shifters - 100% metal
Tact switch with life cycle exceeding 10,000,000 activations
Comprehensive driving gear - 13 action buttons (including 2 on base) + 1 D-Pad
Detachable racing wheel featuring the Thrustmaster Quick Release system
Switch racing wheels easily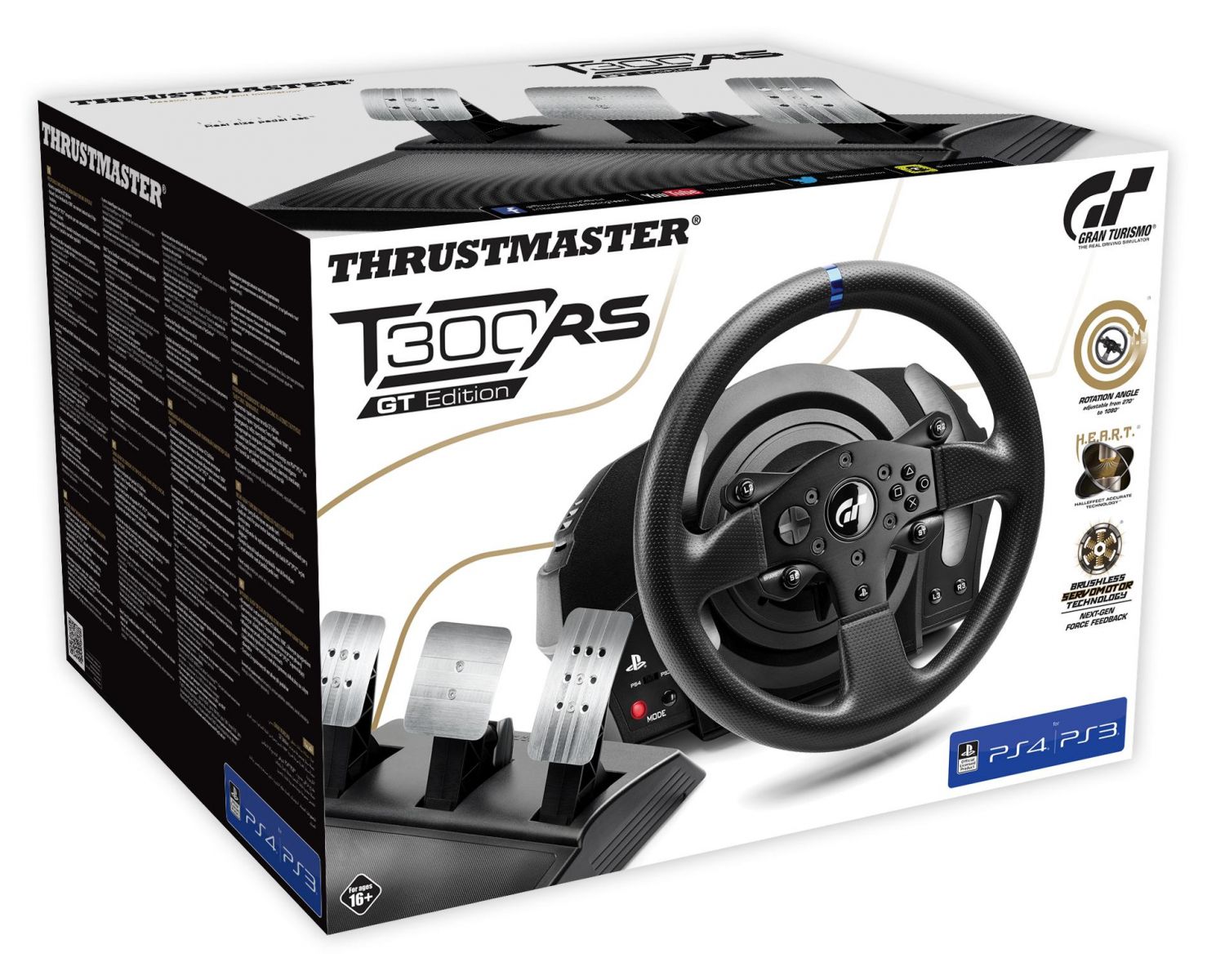 2 large, wheel-mounted sequential paddle shifters
Sequential gear shifts are facilitated by the two large (5" / 13 cm high), 100% metal wheel-mounted sequential paddle shifters, super high-end tact switch (lifespan of more than 10 million activations).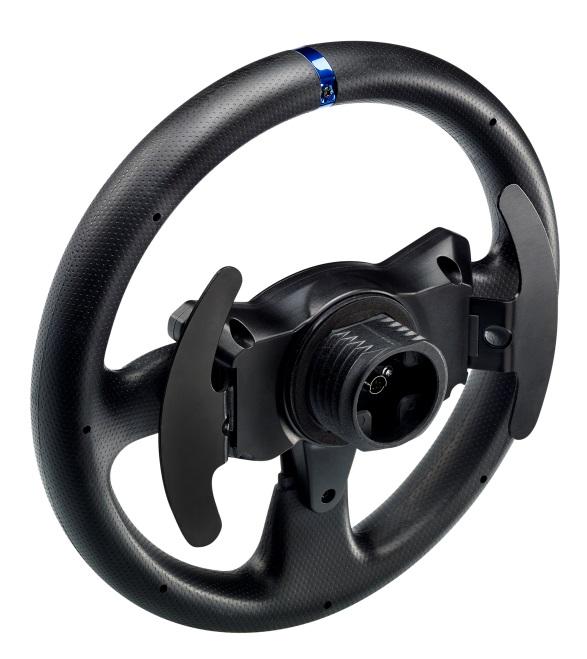 T3PA – GT EDITION PEDAL SET
For this special GT EDITION, and even greater realism, the pack includes the T3PA – GT EDITION PEDAL SET, featuring three pedals and a 100% metal internal structure. Accelerator and clutch pedals are adjustable in height and spacing. The brake pedal has progressive resistance and comes with a Conical Rubber Brake Mod.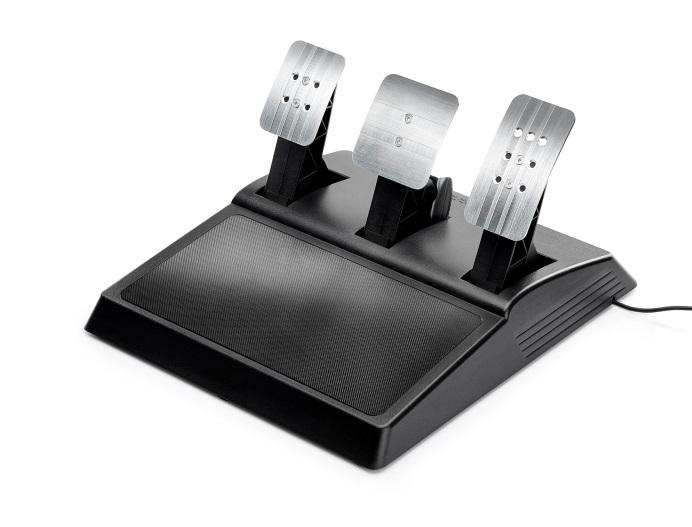 Industrial-class brushless servomotor
Under the hood there's nothing less than a genuine brushless industrial Force Feedback servomotor (with frictionless action), providing super-smooth and seamless Force Feedback. The motor's silence allows you to completely focus on what matters – namely, premium performance on the road.
Ultra-responsive and realistic Force effects, with no latency.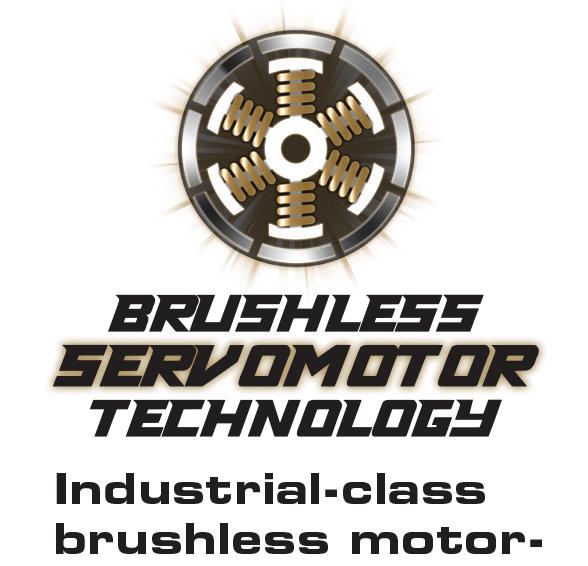 New dual-belt system
The new 1080° dual-belt system delivers super-smooth and quiet Force Feedback with incredibly responsive, realistic Force effects: feel the road, not the wheel's internal mechanism.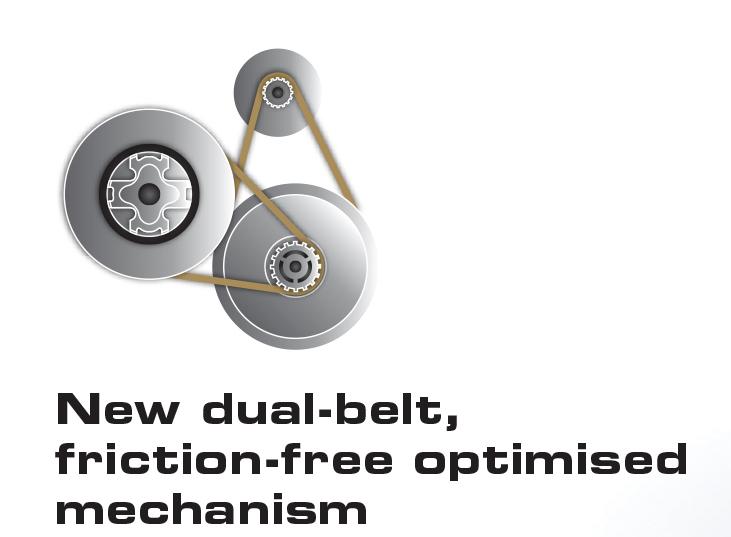 H.E.A.R.T. HallEffect AccuRate Technology
Thrustmaster's development teams have added precision to the motor's impressive capabilities by incorporating H.E.A.R.T HallEffect AccuRate Technology, featuring a contactless magnetic sensor: this provides 16-bit resolution, for 65,536 values on the wheel's steering.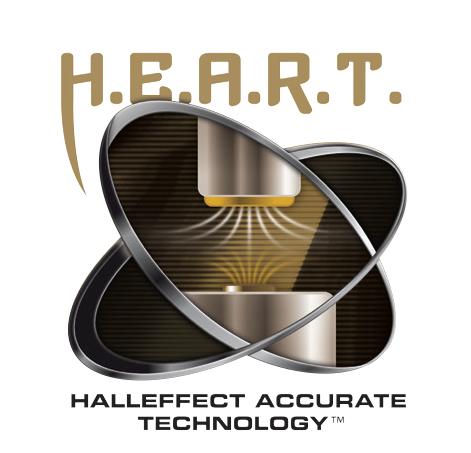 Thrustmaster Quick Release system
The Thrustmaster Quick Release system lets you quickly switch from one wheel to another – in just a few seconds. This innovative concept gives wheel base owners the option of purchasing separate detachable Thrustmaster wheels, for use with their existing base. Enjoy optimal realism in all types of races!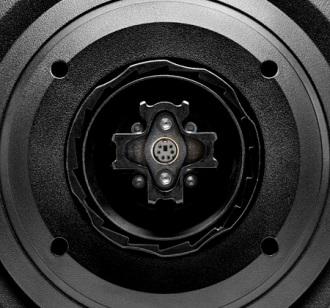 Ecosystem-Ready
Compatible on PS4, PS3 & PC with detachable Thrustmaster wheels** (599XX EVO 30 Wheel Add-On Alcantara Edition, TM Leather 28 GT Wheel Add-On, Ferrari F1 Wheel Add-On, Ferrari GTE Wheel Add-On, etc.).
Compatible on PS4, PS3 & PC with Thrustmaster 3-pedal pedal set T3PA-PRO**.
Compatible on PS4, PS3 & PC with the TH8A shifter** (TH8A – Thrustmaster TH8 Add-on).
** Sold separately.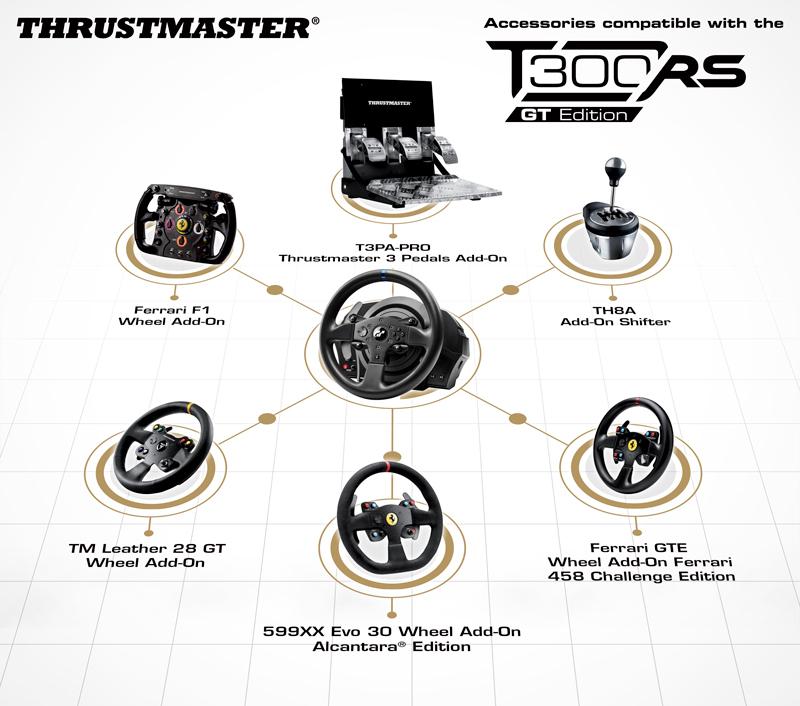 Gallery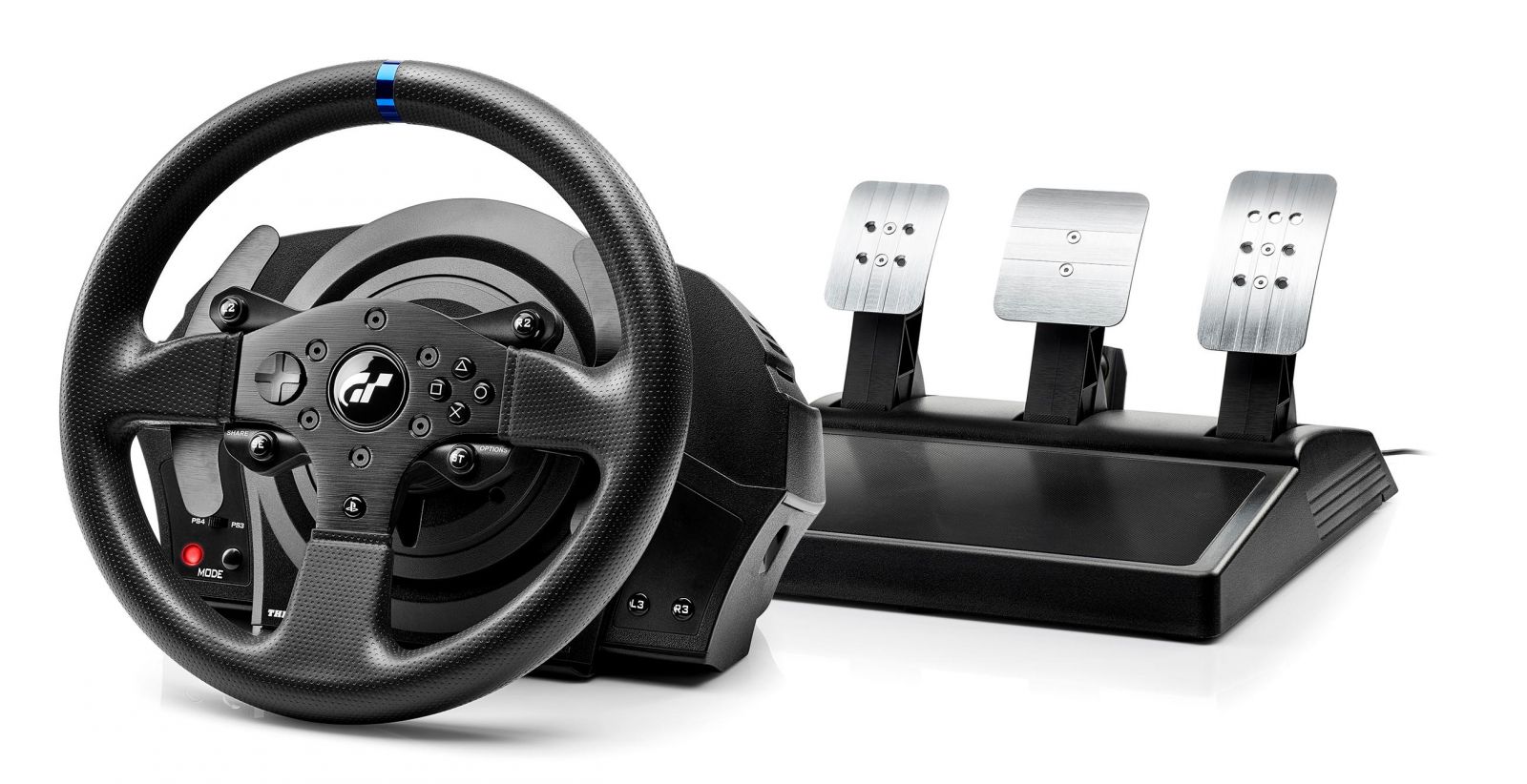 *** หมายเหตุ

- สินค้ารับประกัน 1 ปี
- การจัดส่งสินค้า มีการ packing สินค้าให้อย่างดี พร้อมทั้งส่งแบบ EMS และ ขนส่งเอกชน
- ในกรณีที่ลูกค้าได้รับสินค้าไม่ตรงตามรุ่นที่สั่งซื้อหรือสินค้าชำรุดจากการผลิต ให้ติดต่อเจ้าหน้าที่ Gump ภายใน 7 วัน